Port Augusta Holiday Rental - Explorers ..................................................................Book directly with the owners for less!
---
Explorers is a four bedroom home, is the perfect place for your holiday as it is centrally located on "Port Augusta Strip" on Highway One, near fast foods, hotel, mechanical repairs, car hire etc.It has a large kitchen, front living area polished timer floor boards throughout to add charm & character. Entertaining area with large two door fridge, oven & entertainment area with a barbeque. Walking distant to the City Centre, Wadlata Tourist Centre and the Beach.

Very functional, superbly appointed with quality furnishings, fully self-contained including everything you would need - electric blankets, all bed linen, pillows, continental quilts,
summer & winter blankets, bath room and tea towels. The utensils, crockery and cutlery will be ready to use with an initial supply of complimentary toiletries as well as tea and coffee ready.

You only need to bring with you, clothing, personal effects & a smile!

When you make a reservation you are the only occupier of a fully self-contained holiday home. You do not share with other guests. Our Holiday Homes are the most sought after alternative to staying at hotels, motels and caravan parks and offer great value and includes a combination of unique features guaranteed not to be found in any other holiday accommodation in the local area.

"Explorers" and "Squatters Cottage" are located next to each other.

Features and facilities:–
• Secure property, parking for two cars behind electric roller door 2.5m clearance.
• Entertaining area with fridge, oven & barbeque.
• Plasma TV, DVD player.
• Wall air conditioner & electric heater in lounge.
• Reverse cycle air-conditioning in the living area.
• Reverse cycle air-conditioning in the living area.
• Lounge with Plasma TV, DVD, and CD player.
• 3 Seater lounge and two reclining chairs.
• Master bedroom queen size bed, wall mounted Plasma TV.
• 2nd bedroom – queen size bed, wall mounted Plasma TV.
• 3rd bedroom 2 single bed, wall mounted Plasma TV.
• 4th bedroom single bed, wall mounted Plasma TV.
• Bedrooms front & side of house double glazed for extra comfort.
• Fully equipped kitchen, all the necessary crockery, cutlery, utensils and glassware.
• Bathroom – basin, bath & walk in shower, separate toilet
• Automatic washing machine, tumble dryer, iron & ironing board.
• No pets allowed.
• Smoking only permitted outside. Want a luxurious holiday without the price tag?
Luxury on a budget. Port Augusta best budget accommodation.

Rates: Stay 3-13 night stay – 1 person $160 – extra persons $30 per night.

Right now you can take advantage of extremely competitive rates for Long Stay.

Book Online to Stay 14+ night stay – 1 person $110- extra persons $30

We are committed to bring to our valued guests luxury holiday homes at a affordable price..

Book direct with the owners. Best Price Guarantee.

We're passionate about providing unbeatable value for money and strive to provide exceptional customer service at every level. We charge No Booking Fees, No Credit Card Fees, No Linen Hire Fees and No Cleaning Fees (unless left unclean)

You do Not Pay no more for Xmas, Easter, school holidays, weekends & other peak periods, you pay the same price all year round. Book with Executive Holiday Rental RIGHT NOW on
line………

More money in your pocket and peace of mind, knowing you will genuinely looked after Executive Holiday Rental providing live online booking with real time availability and
pricing to make it easy for guests to look, choose a roperty, Right Now you can book and pay on line. All bookings – Are subject to Policy – "Terms & Conditions of Use". It is important to that you read & understand these obligations of the "Terms & Condition of Use" Prior to booking. Right Now you can book and pay on line.

Port Augusta Executive Holiday Rental offer an "affordable and comfortable stay, value for money and freedom of choice".
Only the number of Guests are permitted to stay at the property as per booking.

Cannot exceed 10 persons. Minimum stay 3 nights.
• We offer a customized, personal service to our guests.
• Our representative will meet and greet you at the property.
• Courtesy arrival/departure pick up at Port Augusta airport, bus or train stations
• During your stay we are available to assist your needs.
• Cleaning service with linen change is available for additional cost.

"We see each guest as our most valuable asset and we welcome you to Port Augusta and feel sure that your stay will both be relaxing and pleasurable. Our town, our place, we welcome you with pride."



Going ABOVE and BEYOND your expectations.  Our goal is:- "A firm focus on 100% customer satisfaction with a drive for success in achieving outstanding results ensuring our guests are clients for life"
We become friends with most of our guests and because of the nature of our approach a huge
percentage of our new business comes from recommendations and word of mouth referrals. We
welcome the opportunity to discuss with you your requirements.

"I've often wondered if heaven exists, now I don't really care, I'll just stay here!"
Clean & Comfortable
Work trip for staff. Whilst the property was a step back in ime it was clean & comfortable. Colin was the perfect host. In fact we've already booked a return trip.
Terri H.
We had a great stay.
Every thing is in a perfect area. Would recommend this to anyone.
Matt P.
"Clean and well looked after",
"The house and furniture are very clean & tidy"  "You could not get a cleaner & better place for the price"
"We stayed at Explorers & Squatters Cottage and they were above and beyond expectations. Absolutely top notch, the houses clean & comfortable, the kitchens were very well equipped with everything we would need, comfortable beds, good showers, plenty of secure car parking, the guys loved the privacy and large screen TV`s  was great, a top location. To have a nice place to sit, have a few drinks with the men after a day`s work, it was very relaxing and stress free- the perfect accommodation for workers. Our work takes us all over South Australia and without doubts one of the best places we have stayed at" Adelaide Hills Concrete Tanks. Strathalbyn.
Hi Colin and Lois,
We thank you for our stay at Pt Augusta.  We enjoyed our stay. The location is a quiet, peaceful area in which we had privacy and felt secure, all of which we appreciated when having a break. We would have no hesitation in ecommending this accommodation to others. Ian and Julie.
These are just a few of the guest's comments which epresents a high level of satisfaction.
"Be our guest, experience the difference"
: 4 Bedroom Sleeps 8
: 8
Book Now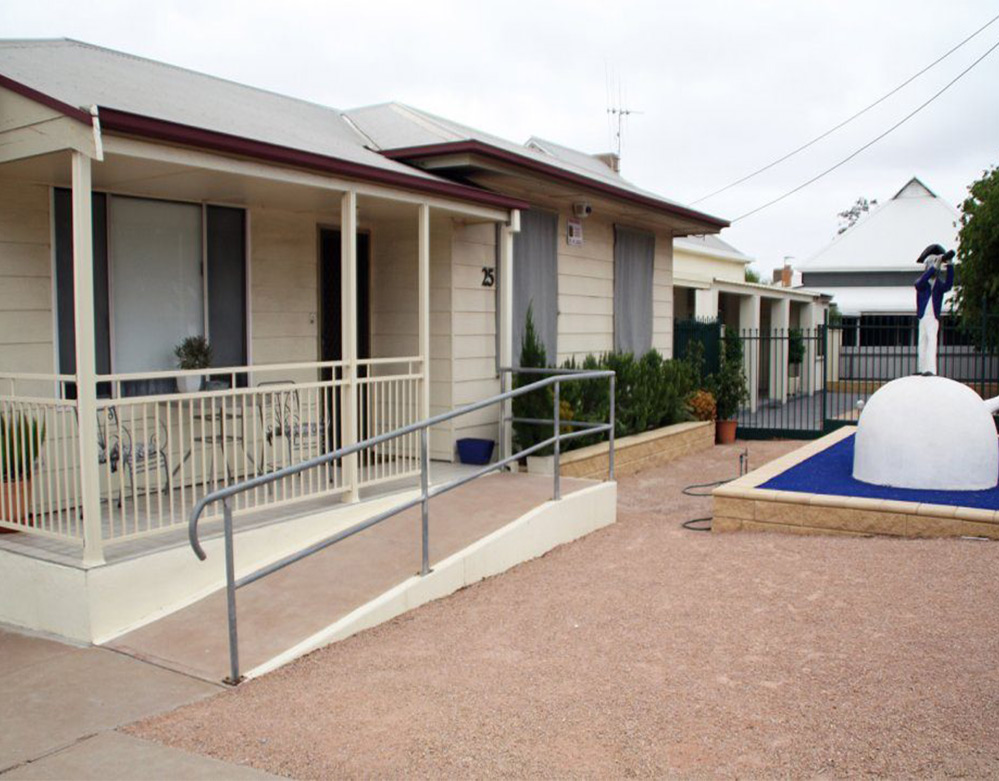 ---
Other Accommodation Options
---
---
GENERAL INFORMATION
Check-in : 02:00pm - 07:00pm
Check-out : 10:00am - 12:30pm
After Hours : If you are arriving late, please contact us on 61 418 838 807 so that we can make arrangements for you
Parking : Free Secure Parking on site.