Port Augusta Holiday Rental - Cross Roads Travellers Rest............... Book directly with the owners for less!
---
Cross Roads Traveller`s Rest is appropriately named because Port Augusta is linking north, south, east & west of our nation. Mayor Joy Baluch AM called Port Augusta "the centre of the universe" it`s not hard to see why!

Cross Roads Traveller`s Rest is for the discerning traveller who expects to find more than a basic place to stay.

We have taken a traditional style house and created a modern open plan home with conveniences that today's travellers expect. You will find our place comfortable and relaxing but with a subtle elegance that allows you to appreciate.

This 3 bedroom home, sleep 5, secure, private, located in quite area, walking distant to City Centre and Beach. A fully furnished home offering an affordable and a comfortable stay.

Suitable for couples, families, working men, contractors, shift workers, short stays or long stays forthose who don`t want the hassles associated with hotel and motel accommodation. You need to bring with you, your brief case or tool box, clothing, personal effects & a smile!

"Why stay in a room when you can have the privacy, space and comforts of home"

Not only can it be cheaper than a hotel or motel – it is much more exciting! You get to live in a fully furnished home, with all the amenities and a full size kitchen, where you can make your own meals.

More privacy, another advantage of renting one of our holiday homes is the optimum for security and privacy that you would hardly enjoy at other accommodation rentals. You know your vehicles are secure and are not at risk in a public area.

A light filled open plan living & dining area, large kitchen with brand new quality stainless steel appliances including dishwasher & plenty of cupboard space. Fully equipped kitchen, all the necessary crockery, cutlery, utensils and glassware. You can slash food costs by cooking up a storm in the kitchen and a washing machine and dryer are included.

A perfect base for sightseeing and touring the Flinders Ranges and Spencer Gulf areas.

Plot your escape to this exclusive, self-catering home for a truly relaxing and rejuvenating break, take a Spa Bath, watch a movie from the large selection of DVD's, choose a CD to listen to listen to music and read a book from a HUGE selection of books and novels.

CROSS ROADS TRAVELLER'S REST is the perfect place to escape the stress of the city. Ideal for a low-stress weekend get-away. Very functional, superbly appointed with quality furnishings, outdoor entertainment area with barbeque, fully self-contained, including everything you would need, electric blankets, all bed linen, pillows, continental quilts, summer & winter blankets, athroom & tea towels, all you need to bring with you is clothing, personal effects and a smile ….………Weekly
linen change and clean towels can be provided.

Romantic Couples – a quite hideaway. Immerse yourself in all the things that makes our home your home. Unique romantic, couples' retreat designed with getting-away-from-it-all in mind.

For couples a lie-in or a love-in, CROSS ROAD TRAVELLER'S REST can be "Lovers Nest Retreat" for an alternative romantic couples retreat, a secluded private, secure home in a located in a quite location with an interior with stay-in-bed setting – "OOOOOH-LETS GO THERE"

LIVE – LOVE – LIFE – The perfect Love Nest Retreat – makes it perfect for romantic self- catering get away.

"BRING THE FAMILY DOG – PURR-fect. Pet friendly is about LOVE AND UNDERSTANDING". Don't leave your buddy home – a pet friendly home.

For you and your four-legged friends! Accommodation that'll set tails wagging.

DOG INFORMATION:
- The property is securely fenced.
- Dogs must be registered and have a current vaccination certificate.
- Please bring your own dog bedding and bowls.
- Dogs welcome inside but not on furniture rugs, cushions etc.
- Please ensure your pets are under control and do not disturb neighbours.
- Droppings and bones are to be picked up a disposed of in the rubbish bin.
- A nightly fee of $10 applies for 2 small dogs or 1 large dog.

Best Price Guarantee.

We're passionate about providing unbeatable value for oney and strive to provide exceptional customer service at every level.
You do Not Pay no more for Xmas, Easter, school holidays, weekends & other peak periods, you pay the same price all year round.

Need a place to stay for more than a week?

Extended stay rates.
Stay 3 or more night stay $160 – extra persons $30 per night.
A nightly fee of $10 applies for 2 small dogs or 1 large dog.

Features and facilities:-
- Secure property with electric gate, parking for two cars behind electric roller door.
- Fully equipped kitchen, all the necessary crockery, cutlery, utensils and glassware.
- Lounge with Plasma TV, DVD, and CD player.
- Large selection of DVD`s, CD`s, games a HUGE selection of books and novels.
- Air conditioner & electric heater in the living area, reverse cycle air conditioner in 2nd & 3rd bedrooms.
- Lounge, 3 Seater lounge and two reclining chairs.
- Master bedroom queen size bed, electric blanket.
- 2nd bedroom 2 King Single beds, electric blankets.
- 3rd bedroom 1 single bed, electric blanket.
- Bathroom Spa Bath, shower and basin. Separate toilet.
- Automatic washing machine, tumble dryer, iron & ironing board.
- Pets allowed.
- Smoking only permitted outside.

Here are some words from our loyal guests…
"I've often wondered if heaven exists, now I don't really care, I'll just stay here!"

A real 'home from home
Walking distance from the town centre (once we found the way). Appreciated the 'pet friendly' aspect, and copious supply of hot water. Thanks to Colin for information
about the local attractions. Tom E.

We really enjoyed our stay in Port Augusta, we think our accommodation had a lot to do with that.
We felt very safe and secure with the electric gate and lock up garage. Our dog Ollie enjoyed roaming around the gardens and was thankful he could come in and enjoy the air conditioning and although we stayed during a heatwave the air conditioner didn't miss a beat. We had everything we could need and more. This is a very nice place to stay, very comfortable. We will be back.
Kerry M.
Excellent big home had everything we wanted.
Would go to this property again was very homely and had everything we wanted. Nice backyard for our doggie too. Lovely comfy bed and quiet location. Thankyou
Great.
The house was used for two weeks for a work stay so boys only stayed at night. House was good for what we needed,
Sally W.
These are just a few of the guest's comments which represents a high level of satisfaction.
"Be our guest, experience the difference"
: Spa Bath - Pet Friendly Perfect.
: 5
Book Now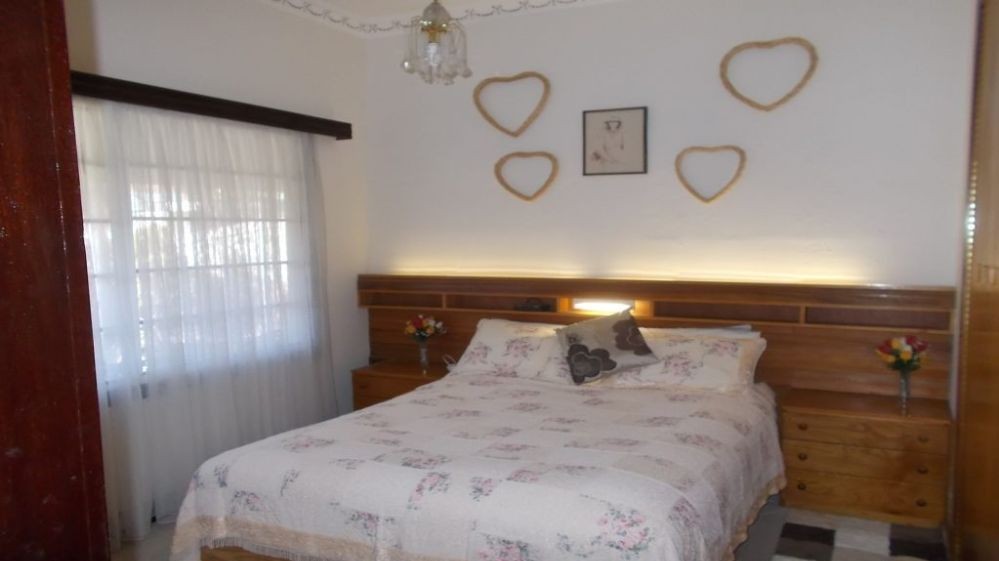 ---
Other Accommodation Options
---
---
GENERAL INFORMATION
Check-in : 02:00pm - 07:00pm
Check-out : 10:00am - 12:30pm
After Hours : If you are arriving late, please contact us on 61 418 838 807 so that we can make arrangements for you
Parking : Free Secure Parking on site.